Colorful chalk drawings, hundreds of people dressed in costume, miles of open space for biking, walking, and catching Pokémon…
This is just a glimpse into what happens when a city combines an Open Streets festival with Pokémon GO.
In 2017, three experiments took place through a partnership between the Knight Foundation and Niantic — in Charlotte, San Jose, and Philadelphia – where each city remixed the game in their own unique way. This post highlights some key differences in the three cities.
Background: Remixing open streets
"When the streets shut down, the city opens up" – a sentiment that has inspired hundreds of cities to host their own special events to bring communities together. With Pokemon GO, the host events we tracked were:
If you've never been to an Open Streets event, picture several miles of streets closed for a day of bicycling and walking. Usually set in a downtown or central hub of a city, participants amble into restaurants, cafes, retail shops, and mingle with fellow residents. The experience creates a special kind of festival, and as San Jose officials declared, transforms the streets into the "largest park in the city for a day."
So why experiment with Pokémon GO on top of this? Well, for a fascinating variety of reasons. Some cities wanted more attendees.  Some wanted to mix social groups in new ways, like bikers with walkers — and hoped that Pokémon GO could do that. Others wanted to experiment with technology and see if the data layer of their city could be brought into a live event. So what happened?  It starts with the map…
Paths to Unite
While each city produced an official map to outline the open streets route, they varied in design and their formal inclusion of Pokémon-related information. Often, multiple versions of the map were created and distributed in digital spaces, including with player annotations.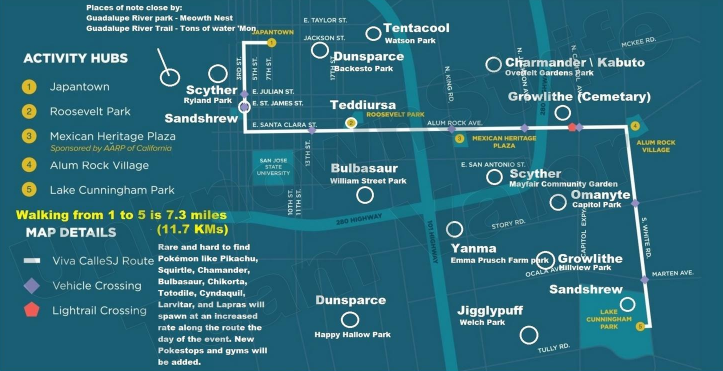 In Charlotte, a "PokéWalk" linked together 16 PokéStops and two gyms along a three-mile route between two parks with access to 11 neighborhoods. Chalk artists noted the locations of the temporary Pokémon stops through sidewalk art (a trend that carried over to Akron and Philadelphia).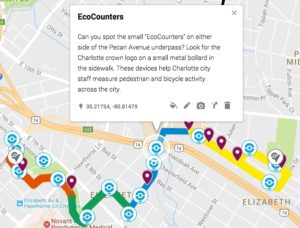 In San Jose, a 7.2-mile route cut through the east side of downtown, comprised of 130 Pokestops, 25 gyms, and a Golden Raid Pass. Along the route, players could enter a free raffle for a chance to win a tour of Niantic's San Francisco Office. The four main activity hubs served as anchor locations for the event with additional music and cultural programming by local groups.
In Philadelphia, a 7-mile round trip route connected Philadelphia's Historic District downtown to the North Philadelphia neighborhood of El Centro de Oro. Pokémon GO players could participate in a Scavenger Hunt, which featured 10 booth locations along to path. (Different versions of the Scavenger Hunt took place in Akron and Chester as well.)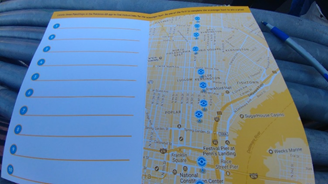 A note on incentives
I saw a real variety in player motivation and goals.
For players who participate for the overall experience, the in-game rewards may be secondary. More important may be the adventure surrounding the event: the journey taken to reach the city, the group one traveled with, the community being represented, the opportunity to meet new people in a new environment while learning and having fun.
This spirit was articulated nicely by Mary, who I met in Philadelphia. As a member of a 120-person raid-group from Boston, she and her family travel "pretty much anywhere to hunt Pokémon".  She likened the game to the bar scene during her college years, understanding it as a "social lubricant" that gives people "more motivation to get out and explore."
For players who come for the in-game rewards, the event might not be a good fit. I spoke to one avid player who chose not to attend Open Streets Philly because he didn't think there would be sufficient in-game offers.
Many players wanted the city remix to require some use of the game. In the case of Charlotte, players had to photograph the blue Pokéball stencils on the sidewalk, either within the game's augmented camera feature or their regular cellphone camera. But that wasn't enough for some. As stated by a player on Silphroad, "it seems odd that the event could have been completed and the reward obtained without even playing Pokémon GO. You just needed a cell phone with a camera to snap pictures of some stencils. That's it."
---
Across cities, from Charlotte to San Jose and Philadelphia, we see compelling examples of how open streets not only provide spaces for people to play and connect, but also offer residents the opportunity to re-imagine their relationship to their city.
For a deep dive into these open street dynamics, read our full report.
<< See more discussion probes on Pokémon GO and Playful Cities