There are many ways to bring the flavor of Pokémon GO from screen into an event. Below, report co-author Aubrey Hill outlines some of the most interesting for physical space — plus a few design observations.
Sidewalk Stencils and Chalk
(e.g., in Akron and Philly)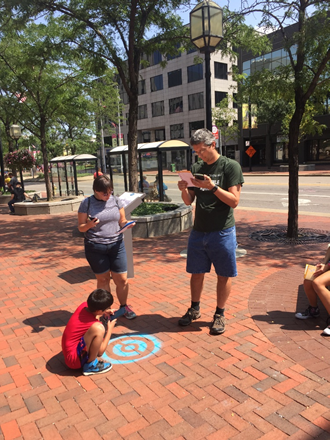 What they did: Event organizers provided space and materials for attendees to recreate their favorite Pokémon with sidewalk chalk on the ground all along the route and especially at major stops and thoroughfares. In addition the organizers created physical indications of PokéStops along the route allowing non-digital participants to get in on the fun.
Type: Modifying the environment
Observations:
These tactics release community creativity and bring the fan universe of Pokémon into view for all attendees, not just those playing the digital game.

This sort of intervention can also be empowering in that it allows participants to have a kind of influence over their environment.   

Having designated spaces where these space modifications occur provides a natural gathering point to form connections, or just start conversations.

This sort of intervention could easily have more of a playful or game feel by incorporating judging/prizes and a theme. Or by challenging participants to go to specific locations, draw a picture there, and bring back evidence to a central location.
Scavenger Hunt
(e.g., in Philly, Chester, and Akron)
What they did: Multiple cities experimented with the following recipe: Create a paper map with PokéStops labeled on it. Each location has a puzzle that can only be answered by going physically to that location. Some events created a "paper only" version of the scavenger hunt, one for Pokémon GO players and one accessible to anyone at the event. For players, the clue was often in the text of a PokéStop. Once all stops were found the card could be turned in for a prize (like a rare Pokémon GO poster).
Type: Scavenger Hunt
Observations:
Scavenger hunts can position locals as experts. To spur conversation with local organizations or volunteer, position them near points on the map — and use clues that benefit from conversation, or simply have them jump in to aid puzzled players.

Hunts can spur players to complete the whole route. This is highly valuable for events with routes, and contrasts starkly with many location-based games, where skipping locations is fine. Even when players might warn each other away from low-density areas in the game, the hunt can pull them to new terrain.

Physical maps may seem at odds with the screen-based maps of Pokémon GO itself. However, for group events paper can be an ideal form to spur conversation, glance at what others have done, and generally spur social mixing.

Having two different versions of the scavenger hunt, as in Philly, can create some curiosity about the "other version." Consider utilize the asymmetry to create interaction rather than division.  
Golden Raid Passes 

(e.g., in San Jose)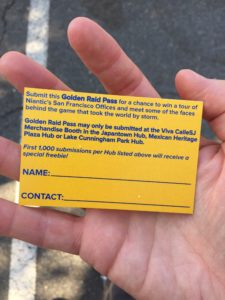 What they did: Staff handed out print cards — about the size of a business card — to players along the route. Players then had to find the employees wearing a Pikachu hat and have them stamp the card. Once the card was stamped the player could wait in line at any of the main points of attraction along the route to receive team-specific bracelets, an event poster, and a chance to be entered into a drawing.
Type: Physical collection, hide and go seek
Observations:
Not all rewards need to be in-game. Simple analog prizes may be effective to get players to spend time engaging with the event non-digitally.

This intervention encouraged players to look up and engage with key organizations as they move between locations. This was surprisingly effective, and spurred conversation as well. In San Jose, a large number of players were talking to strangers as part of trying to find the hidden Pikachu hat-wearer, and the lines were long at each of the tents for turn-in. Conversation was the upside of waiting in line.

Unpleasant lines can result from bottlenecks with too many players and not enough official representatives. Match your staffing to the number of anticipated participants if you go this route.
---
More tactics are possible! These three underscore the variety of options that are available to cities. The impact can change depending on the tactic, to better match city goals and neighborhood needs, as we show in our full report.
<< See our discussion probes on Pokémon GO and Playful Cities