Hive Mechanic is an authoring tool for making neighborhood games and playful activities to embed in public space. No coding skills required.
What will you make?

Just connect "cards" in our editor to create activities in the real world, including branching stories, SMS scavenger hunts, interactive RFID art installations, and participatory Smart City visualizations.
Overview
Our goal is to democratize design for local play — including for libraries, art centers, neighborhood museums, and grassroots community projects.
Created by the Playful City Lab at American University.
What can you make? Our recent work…
A Sculpture that Talks Back
(2020 — Reston, VA).
To accompany this 50-foot surrealist sculpture, we designed an "oracle" to engage with visitors by text message. The oracle sends annotated photographs (similar to polaroids), revealing the hidden history and philosophy of the artwork. More playfully, the oracle picks different "readings" of paired poetry and remixed images of the sculpture for each visitor. Featuring mounted signs with QR codes that start the text message conversation.
Created in collaboration with artist Sue Wrbican and the Greater Reston Arts Center.
Scavenger Hunt: Murals and Activist Art
(2020 — Washington, DC).
This mural hunt was co-designed for Adams Morgan Day (the longest-running neighborhood festival in DC). Using SMS clues and photographs, we led players to iconic murals and recent activist street art as part of #BLM protests. Supported social distancing during the pandemic.
Created in collaboration with the Adams Morgan Day 2020 Planning Committee.
Listening Stations
(2018-2020 — Washington, DC).
Our listening stations aimed to collect and disseminate local history within and across communities. We installed mounted analog phones and repurposed payphones at neighborhood libraries and at the Smithsonian. These installations used wifi hotspots with VOIP adapters to patch in these old-fashioned phones to our network. Callers could then use these stations to leave recordings, conduct interviews, or hear professional oral histories. Such hardware is easily coordinated and centrally controlled by Hive Mechanic.
Created in collaboration with the DC Public Library and the Smithsonian Anacostia Community Museum.
Trivia Map
(2018-2019 –– Washington, DC).
For the longest-running neighborhood festival in DC, we created a transmedia trivia system for local history. We've found that paper maps are often the best starting point for an experience, coupled with historic photographs that are sent to visitors' phones. To reach crowds, nothing beats getting on the music stage with a raffle that happened to circulate history photos of nearby streets. Our system also featured a raffle with locally donated prizes and an interactive retrofitted truck.
Created in collaboration with the Humanities Truck and the Washingtoniana Archive.
Crowdmapping DC Alleys
(2020 — Washington, DC).
We joined a group of architects to reimagine the 246 miles of DC's alleys. Residents from across the city contacted our system by phone (no apps required), sending in photographs that were classified through conversation rather than forms. Meanwhile, in the gallery, photographs were automatically printed as they were sent in from the streets and displayed on the wall to provide an unfolding visualization of DC alleyways.
Created in collaboration with El Studio, the DC Alley Project, and the DC Architecture Center.
How does it work? Cards and a metaphor…
Designed for non-programmers, our card system means that anyone (from librarians to community artists) can create a branching story or neighborhood treasure hunt. Paper cards are used to help newcomers conceptualize good feedback loops and create fun choices for their players. Then, in the online authoring tool, the card system allows them to easily translate their ideas into interactive experiences. Meanwhile, the Hive Mechanic server organizes the live game by coordinating players, sending text messages (with services like Twilio), checking on city data services (via API), and optionally coordinating with installations (e.g., with tiny Raspberry Pi computers embedded in physical space). While our system is designed with non-programmers in mind, advanced programmers can tap into our open-source code to create more complex playful experiences.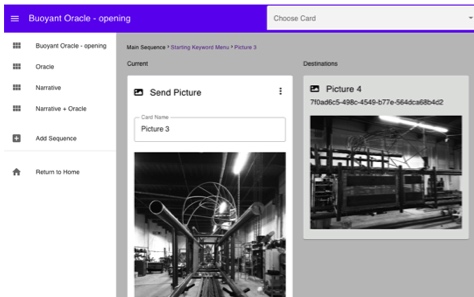 Our web interface for Hive Mechanic is how you create a game or activity — no special apps required. Our tool is designed to be visual and to help democratize game design. It is simpler than tools like Scratch and ARIS, with a hint of the internet of things like IFTTT.
During gameplay, players can send many kinds of information to the game server, from texting a photo to more advanced coordination with mobile apps (e.g., Unity). Meanwhile, other game "satellites" will also be contacting Hive Mechanic with timers, motion sessions, or emerging city data. The game engine can also push content to public space, such as changing a projection on a wall, playing audio through hidden speakers, or starting a video on an iPad.
Soft skills and creativity are especially important for good design. We believe they can be systematically boosted and made more accessible to non-traditional designers. We repeatedly tap into the framing and systemic power of playing cards. As a metaphor, playing cards have nearly universal legibility and can convey ideas similar to the blocks in visual programming languages. In our workshops, print versions of the cards are used before pivoting to the online interface. For game design, paper prototyping is a fundamental technique that is useful for engineers and non-technical designers alike.
This academic video (2 min) introduces how the "card metaphor" helps make Hive Mechanic easy to use. See also our paper for game scholars at the CHI PLAY conference in 2020.
What else? More activities you could make…
• Escape room puzzles, where each player receives a clue and everyone must come together in public space to solve it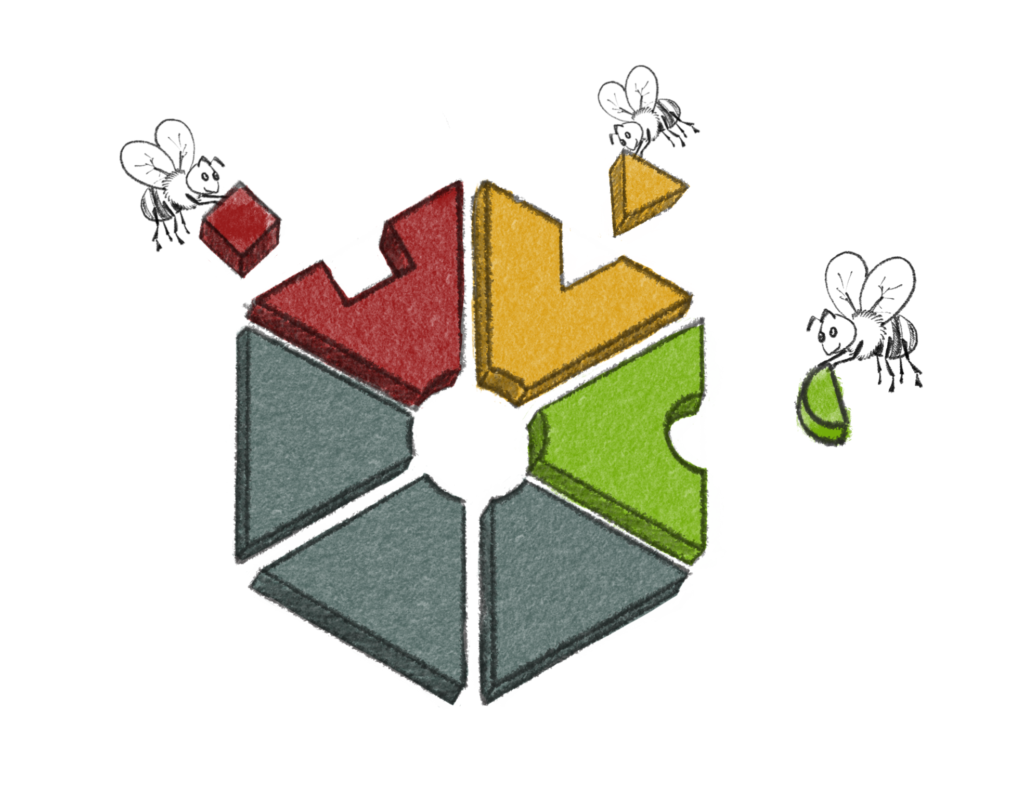 • Audio tours, where you can hear the authentic voices of artists and residents while navigating through public installations. You could also receive accompanying text messages and photographs on your phone while you listen.
• Use your Metro card as a game piece, where you can tap your bus card on a booth to play an audio clue.
• Tap into smart city data (such as weather forecasts), where you send messages or change the color of smart lights based on if it's going to rain.
• Connect with AR/VR/graphical game engines (e.g., Unity). These engines can coordinate or even run Hive Mechanic games using our API. For example, players might visit a historical virtual recreation of public space from 1933 — with their choices in the game triggering videos projected on the side of a nearby community center.
Recent collaborators
Get involved (and some history)
Our raw code is freely available, and skilled developers can always branch the project for their own goals. We are also looking for collaborators in cities and communities around the world to design with us. For select projects, we host the server installation as well. Be in touch with your ideas, or just to explore!
Maker and educator guides are coming soon. Our maker guide will focus on independent learning and experimentation within the tool. Our educator guide focuses on leading sessions of students (of any age) who are creating their own activities using Hive Mechanic.
Milestones and history
• 2018: Ideation phase, thanks to seed funding from American University, including prototypes with Raspberry Pi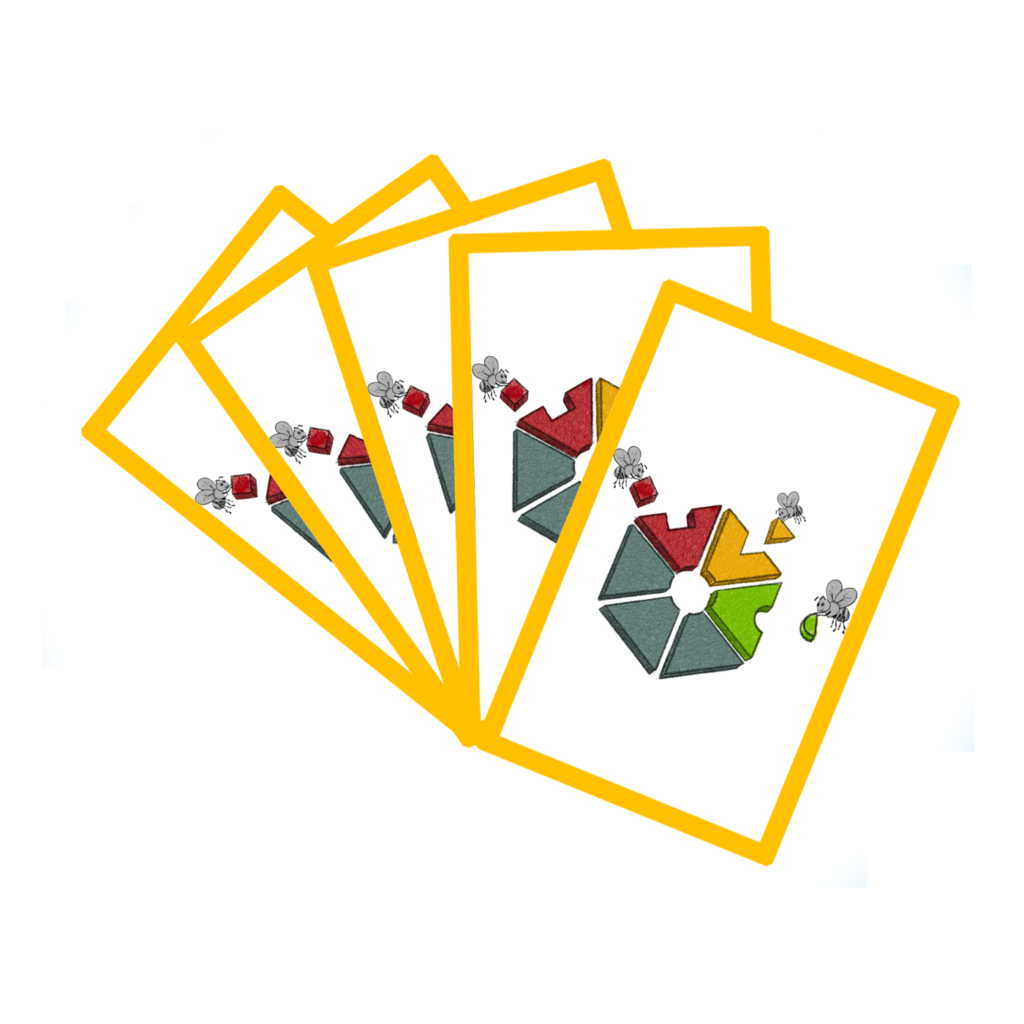 • 2018: Concept demonstrations with key partners (i.e., working prototypes, but with intensive coding and 3rd-party tools)
• 2019: Software development began by Audacious Software. Two technical versions tested; one was selected for our beta.
• Feb 1, 2020: Workshop at the AU Global Game Jam — the first with Hive Mechanic
• Spring 2020: Release of open-source code on GitHub
• Spring 2020: Full stack launch — first exhibits launch running the full Hive Mechanic stack
• July, 2020: Creation of the plans for the MiDI Bee Physical Installation Box
• September, 2020: Launch of "Buoyant Oracle" and "Mural, Mural on the Wall" installations for broad public use, among other working projects
• Summer, 2021: Launch of "Hard Choices" activity with DC Office of Planning, for crowds and live polling on the future of a neighborhood
• September, 2021: Major grant ($249k) from IMLS to reach 20+ cities with neighborhood game design, in partnership with the DC Public Library ("Beyond Our Walls")

Credits
Developed in partnership with Audacious Software, the AU Humanities Truck, the AU Game Lab, and the Leimert Phone Company. A project of The Playful City Lab and the AU Game Lab.