This interactive supplement to the 50-ft tall sculpture "Buoyant Force" explores how to deepen engagement and participation with public art. Launching in July of 2020 at the Greater Reston Arts Center (GRACE), conversational text messaging and photographs of the hidden history of the sculpture's creation and relationships.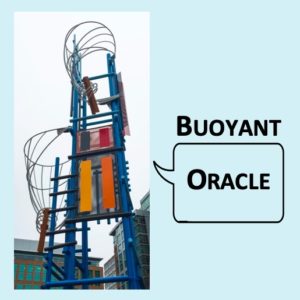 Created by the Playful City Lab with Sue Wrbican
If you want to try, text the word "Hello" to (xxx) yyy-zzzz. (Details to be posted shortly).
For our narrative, Your phone is your personal space — and we want the sculpture to speak with you there. Invite the conversation in!
For more on the sculpture itself, see details at GRACE.
Press
Preview mentioned by PBS affiliate WETA (6/26/2020); jump to minute 1:45: