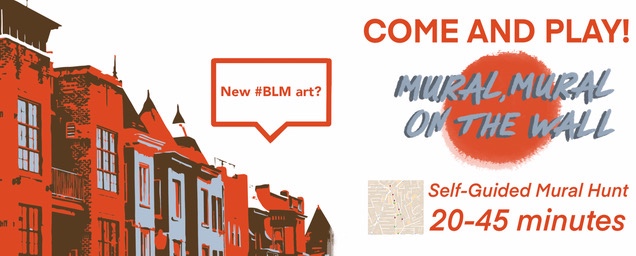 This mural hunt, co-designed by the Adams Morgan Day 2020 Committee Volunteers and American University's Playful City Lab, uses clues to guide you to some of the iconic features of the Adams Morgan community — and some new activist murals. At each location, you will complete playful activities to raise awareness of the importance of art as a platform for social justice and community engagement.
This game is accessibly designed so that anyone can participate, even if they've never visited Adams Morgan before. All you need is your smartphone (and a mask so that you can safely social distance). The hunt normally takes 20-40 minutes to complete.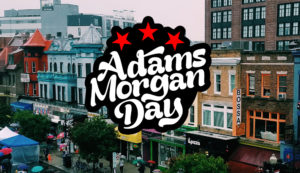 For each of the six locations, players receive clues to help them find the murals. If they find a clue too difficult, players can ask to receive the location via google maps. Once they arrive at the location they complete an activity, such as a trivia challenge, taking selfies, or answering open-ended reflections. During Adams Morgan Day 2020, the hunt also featured a raffle for prizes donated by a local art gallery.
In terms of technology, the experience only requires a mobile phone — no fancy apps required. Behind the scenes, Mural Mural, on The Wall was built using a new authoring tool for public art and city games called Hive Mechanic, from the Playful City Lab at American University.
---
Press Coverage
Our hunt was mentioned as part of Adams Morgan Day coverage on WAMU/NPR, DCist, and in the Washington City Paper (among others).
---
Photographs and walk-through
We used an outdoor exhibit to grab attention. Here it's on our Humanities Truck. Conversations gave us a chance to hand players a postcard with the phone number. We also put up posters with the number.
Players begin by calling the game's hotline…
A resident greets them, introduces the game, and then texts them a map location to get started.

Clues are given to guide players through the scavenger hunt…
As they engage, they learn more about the mural — through text, links to historic Tweets with video and more:
Trivia challenge: To spur reflection, players must answer one question for each location to probe the artist's intentions or meaning of the piece: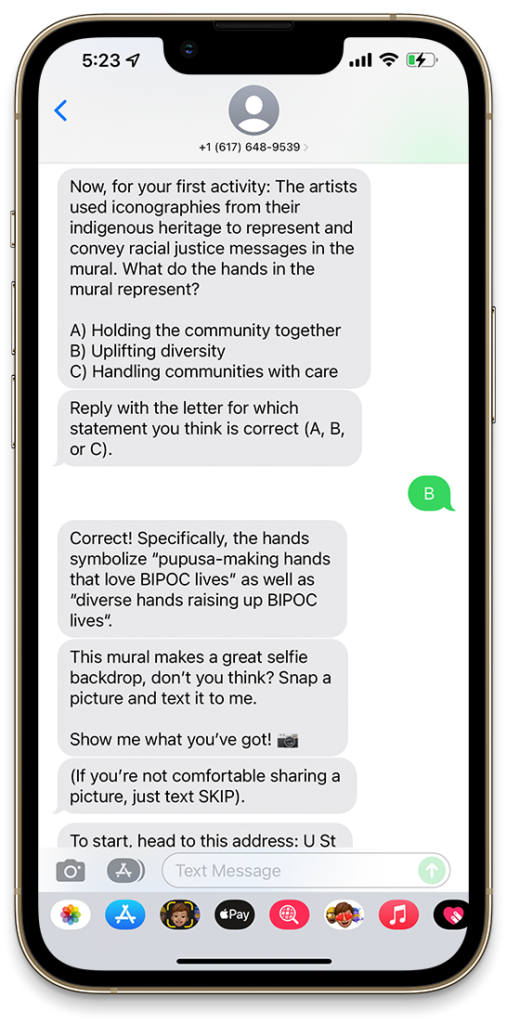 Interactive selfies: one kind of challenge is to ask players to submit a photo with a popular mural…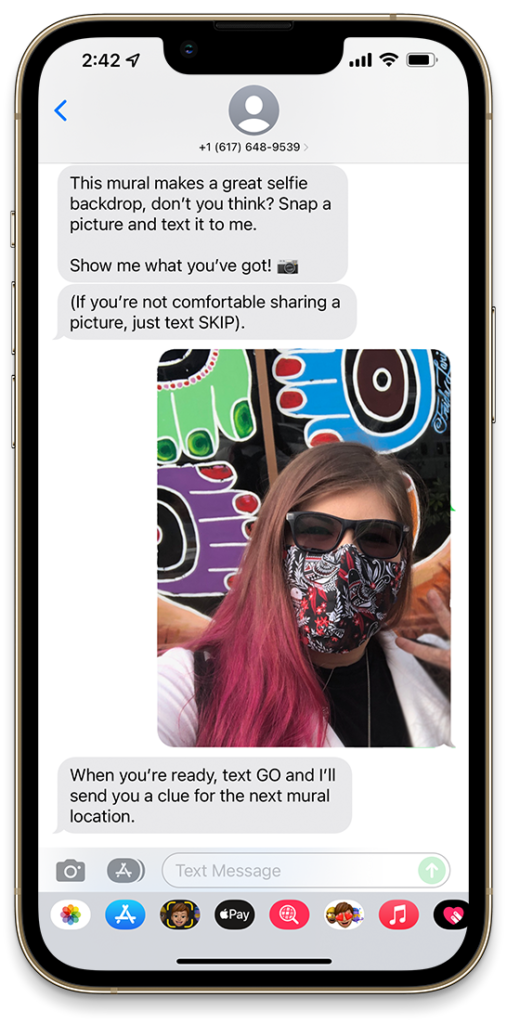 …these selfies were always optional to allow for greater privacy if desired and to welcome families with children. We loved that some participants tweeted their photo as well — thereby spreading stories of the neighborhood more widely.
Two entry points: QR code alongside calling the main number.
Most games pick one way to get in. We love how this game supports the class huge sign with a phone number AND the increasingly common QR code for those who don't want to hear audio. (If anyone won COVID, it was the QR code, as one of our colleagues said.) Full text after the QR code had them submit "About":
Conceptual model: