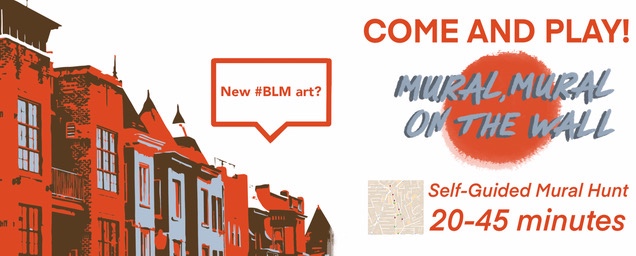 This mural hunt, co-designed by the Adams Morgan Day 2020 Committee Volunteers and American University's Playful City Lab, uses clues to guide you to some of the iconic features of the Adams Morgan community — and some new activist murals. At each location, you will complete playful activities to raise awareness of the importance of art as a platform for social justice and community engagement.
This game is accessibly designed so that anyone can participate, even if they've never visited Adams Morgan before. All you need is your smartphone (and a mask so that you can safely social distance). The hunt normally takes 20-40 minutes to complete.
For each of the six locations, players receive clues to help them find the murals. If they find a clue too difficult, players can ask to receive the location via google maps. Once they arrive at the location they complete an activity, such as a trivia challenge, taking selfies, or answering open-ended reflections. During Adams Morgan Day 2020, the hunt also featured a raffle for prizes donated by a local art gallery.
In terms of technology, the experience only requires a mobile phone — no fancy apps required. Behind the scenes, Mural Mural, on The Wall was built using a new authoring tool for public art and city games called Hive Mechanic, from the Playful City Lab at American University.
You can try out the game by visiting our instructions page here.
---
Press Coverage
Our hunt was mentioned as part of Adams Morgan Day coverage on WAMU/NPR, DCist, and in the Washington City Paper (among others).