<< back to our Report Overview on Pokémon GO and Playful Cities
For several months, participants were invited to explore the communities around neighborhood libraries via PokéStops and PokéCrawls. Five branch libraries in the Free Library of Philadelphia system each created a print map of neighborhood treasures, from murals to historic sites.
The hybrid approach with paper maps was often coupled with the game, but could also be used independently for anyone to try. The game was embedded within an existing library campaign for students on summer break to promote reading and exploration, known as the Summer of Wonder.
This was the longest-running experiment with Pokémon GO of the Knight-Niantic series, running from July through August, 2017.  The experiment was also the only one anchored in physical buildings, specifically:
Queen Memorial Library in Point Breeze
Fumo Family Library in South Philadelphia
Tacony LAB in the Northeast
Lucien E. Blackwell West Philadelphia Regional Library
Parkway Central Library in Logan Square
Detailed Report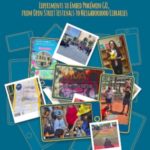 >> These libraries are featured in our full report. Read the PDF version for the most complete description, based on our team's interviews in Philadelphia.
Exclusive analysis in the report:
Ongoing activity (versus the more episodic approach in many cities, including with open streets)
Using libraries as neighborhood anchors to connect play with local history and resources
Key images
Recruiting also happened through social media and email lists of local libraries, for example:
The Free Library is teaming up with @knightfdn & @NianticLabs to bring #PokemonGo to 5 @neighborhoodFLP locations: https://t.co/HBejHu3z3D pic.twitter.com/dZTz7hnmaA

— Free Library of Philadelphia (@FreeLibrary) July 13, 2017
More on the Library remix
<< back to our Report Overview on Pokémon GO and Playful Cities